Date Published:  Tue, 02/16/2016
The first day of Mashpee school superintendent Brian A. Hyde's breaking and entering and trespassing trial concluded February 16 after defense attorney J. Drew Segadelli set about to prove his client was invited into a student's home on more than one occasion.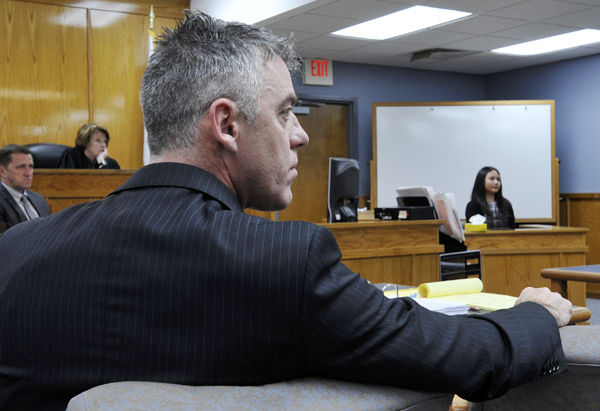 "There were invitations all over the place," Mr. Segadelli said after court recessed for the day, having examined both the homeowner, Marilyn King, and her daughter, Isabel, on the stand. "He was invited in and never asked to leave."
The superintendent is facing criminal charges of breaking and entering with intent to commit a misdemeanor, and trespassing, after he entered the home of a student, Isabel King, allegedly without permission, to perform a residency check on the now 18-year-old. The case is being tried in Falmouth District Court.
The student attended Mashpee schools from 3rd grade before she and her mother moved temporarily to Florida last year. They then moved back to Mashpee and had closed on the purchase of their house five days before Mr. Hyde's visit on September 29.
During opening statements, assistant district attorney Dan Higgins said he would focus on the manner in which the glass storm door to the home was opened, seeking to prove that the superintendent was not invited into the home.
Mr. Segadelli told the eight-member jury he would relay events leading up to the controversial visit, including the numerous attempts made by the Kings last summer and fall to re-enroll the daughter using what he called inaccurate and false documentation.
During her cross-examination by the defense, Isabel said she did invite Mr. Hyde over to her home to "see for himself" that she lived there. Isabel became upset while describing the encounter and his cold demeanor toward her.
She had gone to school to try to enroll again, when Mr. Hyde pulled her aside for being late, although she was not a student yet.
Five days before the home visit, Ms. King had closed on the 27 Windsor Way home purchase and the transaction was recorded into the Barnstable Registry of Deeds.
Mr. Segadelli also said Ms. King's grandmother opened the door for Mr. Hyde the morning of the unannouced visit, fully extending her arm; although Ms. King said her mother only opened the door slightly and the superintendent pushed it open the rest of the way.
Lastly, Ms. King's action of pointing to Isabel's bedroom upstairs when Mr. Hyde asked where the daughter slept was further proof he was invited, Mr. Segadelli said.
The prosecution's first witness was high school student Isabel King, who outlined her and her mother's efforts to re-enroll in the district, stating that they used documents from a Shellback Way address, where Ms. King's former husband lived.
"You were not living there, right?" Mr. Segadelli asked Isabel, who confirmed they were not.
During her testimony, Ms. King said she was looking for a home in Mashpee since they moved back from Florida and was only staying temporarily with a friend in Mashpee when she was trying to enroll her daughter.
The trial resumes Wednesday, February 17, in Falmouth District Court when more witnesses will take the stand. The list of potential witnesses includes Ms. King's mother, Erlinda Valle; paramedical examiner Malee Pratt, who was present at the home; neighbor John Franzago; Mashpee Police Detective Sean Sullivan; School Resource Officer William Cuozzo, Mashpee guidance counselor Daniel Patenaude, high school principal Mark Balestracci, Detective Eric Foley, school registrar Linda Catalina, private investigator Regina Pawlewicz, school committee member George Schmidt, and Cape Cod Times reporter Cynthia McCormick.
Mr. Segadelli subpoenaed the reporter because of her phone conversation with Marilyn King just after the home visit. She is now sequestered as well as all the other witnesses.
Mr. Segadelli said Ms. McCormick is a viable witness.
Mr. Hyde attended the February 16 session with his wife at his side.