The Enterprise
February 19, 2016
Carrie L. Gentile

Mashpee Public Schools superintendent Brian A. Hyde was found not guilty Wednesday, February 17, in Falmouth District Court of trespassing and breaking and entering with the intent to commit a misdemeanor in connection with a home visit he made in September.
After two days of testimony, visiting District Court Judge Mary Orfanello said she failed to hear enough evidence to prove without a reasonable doubt that Mr. Hyde was forbidden by Mashpee resident Marilyn King to enter her home.
"Evidence is clear that he was not forbidden directly, or by means of a posted notice," the judge said, explaining the requirements to find Mr. Hyde guilty of trespassing.
Mr. Hyde was at the 27 Windsor Way home to check the residency of the then-17-year-old student Isabel King. Ms. King's daughter was trying to re-enroll at Mashpee High School after briefly attending high school in Florida her junior year.
After the prosecution rested, Ms. Orfanello accepted a required finding of not guilty submitted by Mr. Hyde's attorney J. Drew Segadelli to dismiss all charges and rule there was lack of evidence for a jury to render a verdict.
Mr. Hyde and Marilyn King both left the courtroom abruptly after the trial ended, declining to comment.
Mr. Segadelli spoke on behalf of his client following the conclusion of the trial.
"They could not even get over the initial hurdle of proving this case," Mr. Segadelli said. "There was not enough evidence for it to even go to jury."
Co-counsel for the defendant Mark Gildea said the school committee, which placed Mr. Hyde on a paid suspension in November, should reinstate him without delay.
"He was placed on administrative leave based on a criminal complaint that no longer exists," Mr. Gildea said. "Mr. Hyde looks forward to going back to work as the superintendent of schools."
Assistant district attorney Daniel T. Higgins focused on the manner in which the glass storm door to the home was opened, seeking to prove that the superintendent walked in uninvited.
He argued the trespassing occurred based on testimony from Ms. King's mother that she had her hand on the front doorknob and only opened it enough to ask Mr. Hyde, "Who are you?" when he proceeded to grab the door handle and walk into the home.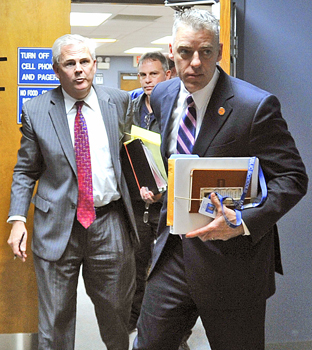 "It does not give a person permission to open the door the rest of the way and enter," Mr. Higgins said.
But Ms. Orfanello pointed to contradictory testimony during cross-examination from Erlinda Valle, who is Ms. King's mother and Isabel King's grandmother.
According to that testimony, Ms. Valle, who speaks broken English, said she said to Mr. Hyde, "You have right here," and gestured to a location just inside the home and stepped back.
The departure in her testimony came after Mr. Segadelli played for her, while she was on the stand, a recorded interview with Mashpee police when she was recreating the doorway scene.
An interpreter was not present to help Ms. Valle, although prosecution requested one since Ms. Valle is Filipino and her primary language is Tagalog. The result was an often confused witness and two attorneys who had trouble communicating with her.
On the breaking and entering with intent to commit a misdemeanor, Ms. Orfanello said the state would have to prove the defendant exerted physical force or had to move an obstruction to gain entry. There were still questions on whether Ms. Valle stepped aside and gestured for him to come in or whether he pushed the door open.
A medical examiner, Malee Pratt, corroborated Ms. Valle's original trespassing statement. Ms. Pratt happened to be at the home that morning for a medical checkup on Ms. Valle.
During cross-examination, Mr. Segadelli worked to discredit her recollection when, after he fired a succession of questions, she said she was paying closer attention to her job and paperwork than what was occurring in the home, a point the judge emphasized when stating her reasons for clearing Mr. Hyde.
Ms. Pratt's testimony also included a statement that she could hear Mr. Hyde upstairs for about five minutes going through drawers in a bedroom, although Mr. Hyde said he never entered the room.
Ms. Pratt said Mr. Hyde was forceful in his demeanor during the home check.
She asked Mr. Hyde if it were standard protocol for school administration to go through such lengths, to which she said Mr. Hyde replied, "I don't need to explain to you. You don't matter." He said he did not answer her.
Ms. Orfanello also stated based on testimony that Mr. Hyde was at the residence to verify Isabel's residency and was not there with intent to commit a misdemeanor, in this case, to trespass.
School Resource Officer William J. Cuozzo also testified about the visit, saying Mr. Hyde's demeanor was "fine," a point Mr. Segadelli sought to prove since Ms. King and Ms. Pratt had said in a police and independent report that he was "aggressive and agitated."
Officer Cuozzo stayed in his car until he was asked to go inside by Marilyn King, who told him that Mr. Hyde didn't believe her daughter lived there, he said.
During a past conversation with Mr. Hyde, the officer said he told the superintendent that home visits were not a police function and he could be there to keep the peace only.
"I told him it was not my job to go into residences," Officer Cuozzo said.
Mr. Hyde said he invited the officer in after being in the home a few minutes.
Not at any time during his time in the home did Officer Cuozzo hear the Kings say Mr. Hyde was not wanted there, according to his testimony.
The questioning turned to whether residency checks were common protocol.
Officer Cuozzo said Mr. Hyde told him the visit was to ascertain residency because the Kings had given the school false addresses in the past. The Kings were not singled out by Mr. Hyde, he said.
"How many other residency checks have you been on in your three years as the school resource officer?" Mr. Higgins asked the officer.
School committee member George Schmidt testified that during a November 4 conversation with Mr. Hyde during a conference, Mr. Hyde asked for his support. Mr. Schmidt told the courtroom Mr. Hyde said he walked up to the doorway, saw it was open, and took that as an invitation to walk in.
During the first day of trial on Tuesday, Mr. Segadelli set about to not only prove his client was invited into the home, but to question the credibility of Marilyn King.
Mr. Segadelli told the eight-member jury he would relay events leading up to the controversial visit, including the numerous attempts made by the Kings last summer and fall to re-enroll the daughter using what he called inaccurate and false documentation.
After returning from Florida in May, the Kings were living with a friend in Mashpee, then moved to Sandwich to live with another friend while Ms. King was house hunting in Mashpee.
During this time, she testified she and her daughter met with school officials a dozen times in the Mashpee district because she knew that was where they planned to live, but because she had not yet found permanent housing, she could not meet the proof-of-residency requirements.
Ms. King testified she asked Mr. Hyde to allow her daughter to enroll, to be able to start the school year with friends, or to extend the school choice deadline so Isabel could enroll under that program.
Five days before the home visit, Ms. King had closed on the Windsor Way home purchase and the transaction was recorded into the Barnstable Registry of Deeds. But before that date, Mr. Segadelli said Ms. King and Isabel had gone to school officials on numerous occasions with false residency documents.
The prosecution's first witness, student Isabel King, outlined her and her mother's efforts to re-enroll in the district, stating that they used documents from a Shellback Way address, where Ms. King's former husband lived.
"You were not living there, right?" Mr. Segadelli asked Isabel, who confirmed they were not.
"My mom's ex-husband adopted me, so I figured I could use that," Isabel said.
Referring to a meeting with a school registrar official, Mr. Segadelli said to Isabel, "You said to your mom, 'Just come clean and tell her we live in Sandwich,' didn't you?"
Isabel confirmed the statement.
Marilyn King testified that Mr. Hyde, after entering the home without permission, asked her where her daughter slept. She pointed upstairs and said he proceeded up the stairs past her and into Isabel's bedroom and began looking through bags and a drawer looking for evidence she lived there.
Mr. Segadelli said her gesture of pointing to the bedroom was an invitation to allow Mr. Hyde to check the upstairs, further proof he was invited, he said.
"This has been a terrible ordeal for a great family man," Mr. Segadelli said. "He's done nothing, while attacked and assailed in the press, and had to stand mute."
The Mashpee School Committee was to meet last Friday to possibly vote on Mr. Hyde's future employment status, but it was canceled fowr a medical emergency.
The meeting has been rescheduled for February 25.
Article from The Enterprise