Date Published: Fri, 10/18/2013
By Travis AndersenGLOBE STAFF  OCTOBER 18, 2013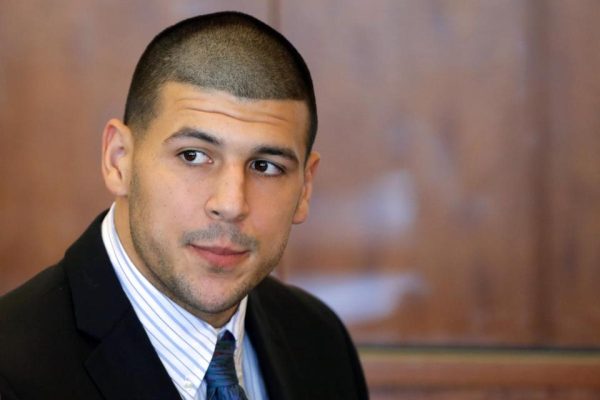 Lawyers for Aaron Hernandez on Thursday slammed prosecutors for filing what the defense attorneys contend is a frivolous motion to have the judge currently assigned to the murder case step aside.
Counsel for the former New England Patriots star wrote in a court filing that Bristol County prosecutors "surely" do not expect to prevail on their motion to have Judge E. Susan Garsh recuse herself on the grounds of her alleged bias and hostility toward one of the prosecutors.
"But by filing the motion and publicly suggesting that harbors ill will toward the prosecution, perhaps the Commonwealth hoped to intimidate the Court from ruling in favor on any future motions in this case" and manipulate Garsh into "bending over backwards" to avoid the appearance of hostility toward the government, the lawyers wrote.
"If that the District Attorney's purpose in filing this motion, shame on him," the defense team added.
A spokesman for District Attorney C. Samuel Sutter said in response that defense lawyers are trying to "curry favor with the judge," and pointed out that prosecutors filed an identical recusal motion with Garsh two years ago in a case involving the slaying of a child.
More: The Aaron Hernandez investigation
"Judge Garsh chose not to rule on that motion and instead referred the case to another judge," said the spokesman, Gregg Miliote, in an e-mail. "The filing of the recusal motion is completely consistent with what we did two years ago. This motion should have been addressed at that time, and now it finally will be heard."
A hearing on the recusal motion is set for Monday.
In court papers filed last week supporting the motion, prosecutors wrote that First Assistant District Attorney William McCauley and Garsh "have a well-known and publicly documented history of antagonism — a history that has, in the past, generated broad public comment and concern."
They continued, "The relentless public focus on any signs of friction between judge and prosecutor . . . might reasonably impair the ability of each to execute his or her sworn duties effectively."
As part of the recusal motion, prosecutors included a court filing from the 2011 case in which McCauley referenced the murder trial of George Duarte, formerly of New Bedford, who was convicted in 2010 in the fatal shooting of a teenager.
During that trial, McCauley wrote, "Judge Garsh engaged in conduct that I believe evidenced a bias against the Commonwealth, which I stated at that time. Her words, tone, and behavior were unnecessary, discourteous, and demeaning. Counsel for the defendant was not subjected to this same hostile treatment."
Defense lawyers fired back Thursday with an affidavit from J. Drew Segadelli, the lawyer who represented Duarte.
Segadelli said he did not perceive any bias or hostility toward either side in the trial, and he said that he "certainly did not agree" with all of Garsh's rulings, some of which he said favored the prosecution.
Hernandez, 23, has pleaded not guilty to murder and weapons charges in the June slaying of Odin Lloyd, 27.
Travis Andersen can be reached at travis.andersen@globe.com.